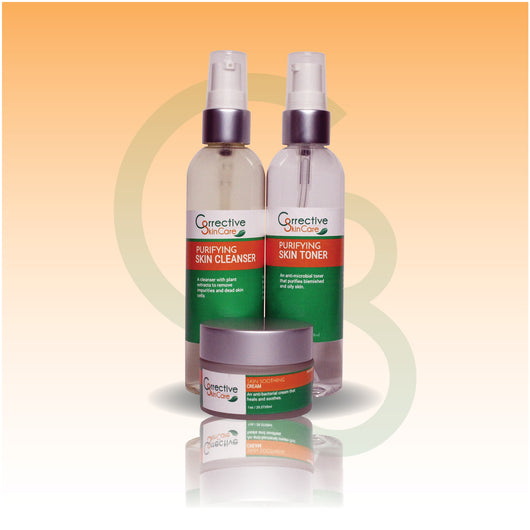 Clear Skin Kit (Subscription Available)
Regular price $71.45 Sale
A regimen that is both anti-bacterial and exfoliating is paramount for someone suffering with acne. The active ingredients found in our custom acne products, such as glycolic acid, calendula, vitamin c, and salicylic acid are considered to be the best time-tested treatments available for treating acne.
Acne is a follicular disorder resulting from dead skin cells mixing with sebum (oil) clogging the follicle thus resulting in the formulation of pimples. It affects 80% of all Americans between the ages of 12 and 24 and sometimes will continue into your 40s and 50s sometimes. It usually occurs at puberty, when the body dramatically increases its production of androgens. These hormones stimulate the production of keratin (a type of protein) and sebum (oil). The excess oil makes the pores sticky, allowing bacteria to become trapped inside.
This kit contains:
Skin Purifying Cleanser - A cleanser formulated with Glycolic Acid to thoroughly cleanse the skin
Skin Purifying Toner - This toner helps to get rid of dead cells and excess oil
Skin Soothing Cream - Heals and repair acneic skin
Ingredients: Deionized Water, Aloe Vera, Hydrocortisone 1%, Salicylic Acid, Propylene, Glycol, Glycolic Acid, Disodium Cocoamphodiacetate, Yucca extract, Panthenol, Allantoin, Glycerin, Petrolatum, Dimethicone, Polysorbate-20, Carbomer, Sodium Hydroxide, Safflower Oil, Ascorbic Acid


Home Care Regimen

1. Apply a dime size of the cleanser in the palm of your hands and activate it with water; then cleanse face in a circular motion. Remove cleanser with warm water.
2. Apply toner with cotton ball to entire face, avoiding the eye and neck area.
3. Apply skin soothing cream to face.

An excellent addition to the kit is the Retinol as well as the Bump Control Cream. If you purchase the acne facial scrub and skin refining mask, you should use them once per week at night.